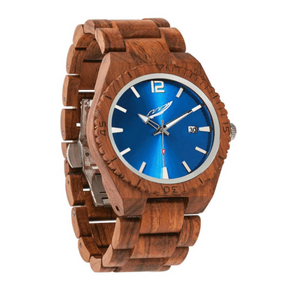 Personalized watches are the rage now, so this custom engraved Kosso wood watch should definitely be on the top of your list when you rack your mind about what to give loved ones!

Handcrafted – The watch is painstakingly made by hand, so you can gauge the skilled workmanship and effort invested into creating this stunning timepiece.
Attractive – Every facet of the watch is polished in order to preserve the natural aura of this wooden timepiece. The luster is brilliantly reflected!
Precision Movement – Never miss meetings, conferences, or appointments again! Thanks to its Japanese quartz movement, this watch maintains accuracy and always displays the right time.
Great Fit – This watch comes with a double fold-in clasp made of stainless steel, so you get a good fit without any discomfort. Being ultra-lightweight ensures you can wear it for hours.
Custom Engraving – Want to express your thoughts and emotions for loved ones? There is space for a custom engraving on the back for you to add whatever text you wish. All you have to do is give us the message and it will be beautifully embedded. It is truly a unique and one-of-a-kind accessory with a personalized touch.
Free Link Bands Adjustment Tool For Any Wrist Size

Durable
Made of Kosso wood, this watch is robust with excellent longevity. The dial is made of tempered glass that is resistant to nicks and scratches. In addition, the wooden surface won't get chipped easily. Best of all, this timepiece will maintain its stylish appearance for years to come.

Lightweight
This watch is extremely lightweight and compact. Also, a band adjustment tool is provided so you can make an adjustment to fit your wrist size.

Ideal Gift
This watch makes a wonderful gift for occasions like birthdays, holidays, graduations, farewell parties, and so on. The recipient will love the gift and your thoughtful gesture!

The watch comes with a lovely gift box. Order now!