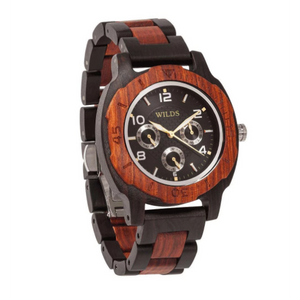 If you want a timepiece that looks chic, but is lightweight so you can comfortably wear it for hours, rest assured your search ends here – this amazing wooden watch is exactly what you are looking for!

Ethically Sourced – This watch is made using wood sourced from a sustainable forest.
Top Quality – Made using the best quality ebony and rosewood, the watch is suitable for everyday wear as the surface isn't likely to get chipped easily. The large dial is made of tempered glass that is tough and scratch proof. Moreover, it is splash and rain resistant.
Clear Display – You need to get an unimpaired view while glancing at the watch, especially if you are in a hurry, so the huge dial clearly shows hour, minute, second, week, date, and 24-hour function.
Precise Time – The watch is top rated in terms of accuracy, as it features Japanese Citizen Movement, so you will always be on time to work, meetings, and other appointments in the future!
Amazing Gift – Clueless about buying gifts for loved ones? This wooden watch makes an excellent gift for all occasions!
Double Fold-In Clasp – Unique and convenient, the double fold clasp fitted onto the band of this Rosewood and Ebony wooden watch allows you to get the perfect fit each and every time you slip the timepiece on your wrist.
Striking Appearance – The dark, exotic hues of ebony, contrasted against the considerably light, yet eye-catching tones of rosewood form an alluring combination. It is designed to reflect a desire for energetic life, as it belongs to the Dreamy series!
Sleek – Due to being lightweight, you can wear this watch for hours without feeling any discomfort. A double fold-in clasp guarantees you can tweak the size so the fit is perfectly snug.
Water Resistant – Although the watch is water resistant and splash proof, we suggest you don't submerge the watch for long periods of time since the material is 100% natural wood. The stainless steel construction helps prevent water from going into the delicate inside workings of the watch.
Hypoallergenic – Are you allergic to certain finishes? This watch is carefully polished with a non-toxic finish and totally hypoallergenic so you can safely wear it without worrying about rashes or irritation.
Add this fabulous watch to your collection today – order now!

Dimensions & Materials
Case Diameter: 46mm (1.8 in)
Glass Face: 30.5mm (1.2 in)
Case Size Thickness: 13mm (0.5 in)
Band Width: 25mm (1.0 in)
Frame Material: Rosewood & Ebony
Band Material: Rosewood & Ebony Wood
Time will only tell how much this rosewood watch will simplify and enhance your day. Make the smart move. Order your Wilds Wood watch now!