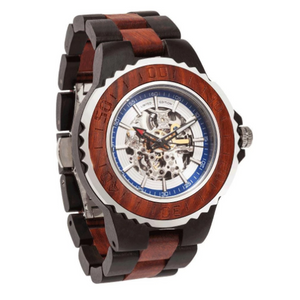 Whether you're going for a business meeting, conference or other engagement, this incredible Ebony & Rose wood watch will ensure you're always on time. Never miss a second by adding this charming wrist watch to your watch collections. It promises to blow your mind.

A Combination of Metal and Wood
Simple, Versatile, Sophisticated, and Classic
Ideal For Business, Formal Events, Or a Date
Suitable For Everyday Use. Splash/Rain Resistant.
Free Link Bands Adjustment Tool For Any Wrist Size

Our all amazing Ebony & Rose wood watch has earned its place as one of the best on the market and that's all thanks to its flawless design. Besides that, this automatic Ebony & Rose wooden watch is water resistant, meaning you wouldn't get to ruin it even if you're caught in a heavy downpour.

With a scratch proof tempered glass, this watch is rugged and meets all your quality expectations in a watch. Want to give it a try? Place your order right away, and you'll be glad you did.

For automatic watch enthusiasts, this is a must have for their collection.

Wilds WINM20 MECHANICAL
Display: power reserve – hours – minutes – seconds
Jewel Bearing: 18 jewels
Power Reserve: 36 hours
Frequency: 21,600 BPH (beats per hour)
Accuracy: +/-3 Seconds/Day

Dimensions & Materials
Case Diameter: 46mm (1.8 in)
Glass Face: 30.5mm (1.2 in)
Case Size Thickness: 13mm (0.5 in)
Band Width: 25mm (1.0 in)
Frame Material: Rosewood/Ebony Wood/Stainless Steel
Band Material: Rosewood & Ebony Wood
Time will only tell how much this wood watch will simplify & enhance your days. Make the smart move. Order your Wilds Wood watch now!