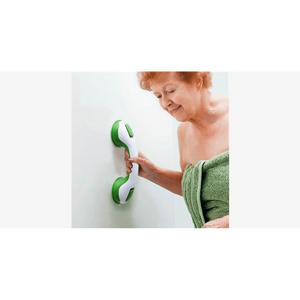 Description:
This plastic suction handrail has a suction grip that's so strong, it feels like it's screwed to the wall. From your little kids to your elderly loved ones, they will all feel secure when holding on to it. This small and serious device is designed to prevent dangerous falls while entering or exiting the tub, but it's not limited to just there! The Lifeline is perfect for use in bathrooms, next to the toilet, near the stairs or beside chairs. Transfer or take it anywhere. It installs in just seconds by placing it on the surface and pushing the safety locking switch. Safety doesn't have to take a vacation when you do. Keep any bathroom safe and buy one today. Works on fiberglass, porcelain, metal, tiles, and almost any other surface!

Highlights:

For use on a dry, flat surface.
Easy installation; no drilling needed
Grip feature provides added comfort
Secure handle to help give stability in the bathroom
suction grip shower handle allows the user to enter a wet or slippery tub or shower safely and with confidence. It helps prevent dangerous slips and falls and is great for travel. Simply position the suction cup grab bar where you want, mount the handle, and push down on the suction cup levers to install the handle on any clean, smooth, nonporous surface.