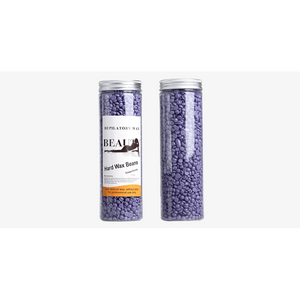 Remove unwanted hair with this Lavender Wax Bean. Made to remove hair easily and pain free! No need for wax strips, just melt the wax and let try for a easy removal.

HIGHLIGHTS:
Original formula Hot Wax Pellets (Beans).
No strips or pre wax oil required.
Can be used on all areas of the body.
Easily heat it up in a wax heater / wax melter.
Quantity: 400g
HOW TO USE:
1. Heat wax pellets in a regular wax heater or in a glass bowl in microwave or over hot water and heat to a working temperature.
2. Using a plastic or wood spatula, spread the wax onto the area to be treated against the direction of hair growth (make sure wax is not too hot).
3. Wait a short period to cool and then holding the skin firmly, remove wax with a firm action against the direction of hair growth.

NOTE: Always test the temperature of the wax before pouring it onto your body!