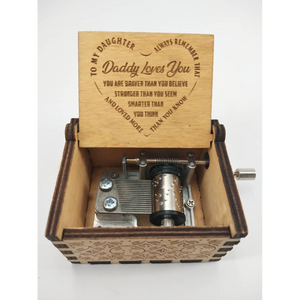 A beautiful gift for your little girl no matter how old she is.

Our laser engraved wooden music box has our iconic signature necklace
design that we sold tens of thousands of inside the lid of the box.

"To My Daughter,
Always Remember
You Are Braver Than You Believe
Stronger Than You Seem
Smarter Than You Think
And Loved More Than You Know"

When you crank the handle on the music box the well known tune "*You Are My
Sunshine*" plays.

This is a great gift anytime of the year.

Surprise your daughter and wait till you see the smile on her face!