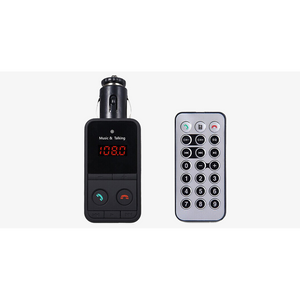 This product is a Bluetooth car charger MP3 player for vehicles. Adapting a professional-grade high-performance Bluetooth module, built-in MP3/WMA decoder chip makes it capable of playing the music files into the car stereo wirelessly.

In addition, during the Bluetooth connection, as calls come through it will automatically switches to the speaker state - once the call ends then automatically back to the music player. Safely and easily enjoy music and handsfree phone calls while driving.

HIGHLIGHTS:
This product is dual USB output. You can charge two devices at the same time - the maximum output is 5V / 2A
When the device is in FM transmitter mode, volume should not be set too loud (generally 25 or less position) in order to avoid sound distortion, adjust the volume using the car stereo adjustments
Try to avoid using strong local radio frequency signals to get better sound quality
Due to various differences in the phone itself, the method used in the Bluetooth maybe different in practice.